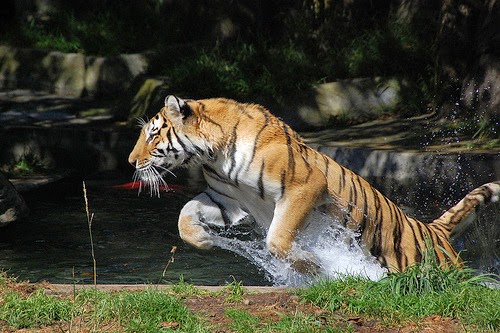 Research shows that tigers need to make a kill every 8 or 9 days.  Which means that they always are on the hunt, and when they do make a kill, the trophy is sufficiently large to support them for several days. 
It is sort of the same thing in your job quest.  Go after the big ones!  Take the time to do your research and don't just settle on the first one that comes along. 
You should start with Defining your Market.  Decide if you want to work for a large company or a small one.  What industry do you want to be in?  Have you considered the Government or the Non-Profit Sector?  Essentially take some time to identify your hunting grounds and again, don't just settle for the first opportunity that you see. 
Then, Assess the Opportunity.  Think about how hard it is to enter that market.  What are the requirements and what are your expectations.  Think about it in terms of Risk/Reward.  Decide how you plan to hunt in your given area.
Lastly, Plan your Entry Strategy.  How are you going to conduct your hunt?  Think about joining professional organizations or leveraging your local Chamber of Commerce.  Seek out networking opportunities as  well as informational interviews with decision makers.  And don't forget the alumni groups from your college or prior affiliations.  
The bottom line is to take the time to prowl for opportunities that will yield you the greatest level of success.  Don't settle!  Take the time to do it right and if you do, it will pay off. 
Good luck.